Welcome to our website.
We are a family run business located in the heart of the Weald of Kent.
When you decide to commission The Creative Joinery & Design Co you will receive the best in craftsmanship and the benefit that many years of woodworking experience can bring to your project. Patrick Wigram, the company's founder is personally involved from start to satisfactory completion with all commissions.
Much of our business originates from customers who approach us to work on specific plans or to get our help with the realisation of a conceptual idea. Either way we strive to deliver a quality and finish that exceeds our customer's aspirations. We freely contribute our experience of design and material choice to assist in achieving a result to the satisfaction of the client.
Featured Pages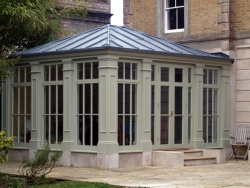 We can design and build a conservatory for any space.
We have a wide experience of making staircases of all designs and specifications.
Timber windows have a timeless appeal and our craftsman made windows will enhance your property.